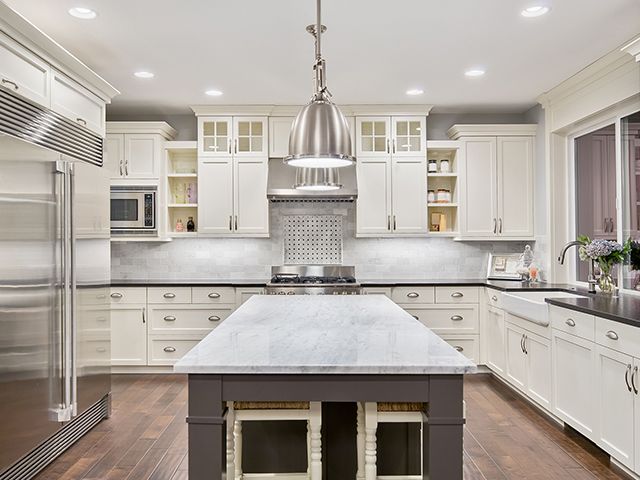 These room-by-room tips can help you breathe a little easier.
Whether it's spring cleaning time or you're prepping for your first big dinner party as a couple, the thought of cleaning your house from top to bottom can be completely overwhelming—especially if you or your partner has allergies to consider. Thankfully, household allergens are easier to get rid of then you think. All you need is our handy home cleaning checklist and a few super effective.
Kitchen
You take pride in making sure your kitchen is squeaky clean, especially after cooking up a storm. But what you might not have known is that some of those cleaning products can contain volatile organic compounds (VOCs) that evaporate into the air. If you find these store-bought products bother your allergies or asthma, try natural or homemade options.
Wipe down countertops and cabinets with a microfiber cloth. (It doesn't containdisinfectant chemicals that could bother allergies and is environmentally-friendly).
Clean front and inside of appliances, like the refrigerator, oven, microwave and dishwasher. Use a microfiber cloth dampened with non-toxic dishwashing liquid and water.
Wash windows. Use a natural glass cleaner to prevent streaks—or make your own with distilled vinegar and water.
Degrease vent hood filters. Soak with cleaner made from dish soap and baking soda.
Clean floors using a biodegradable product and a mop with a microfiber pad.
Pro-tip: Use an air purifier in your home to remove microscopic allergens and pollutants from the air. The Dyson Pure Hot+Cool Link contains a HEPA (high-efficiency particulate air) filter that captures ultra-fine particles—and it also does double duty as both a heater and fan.
Living Room
Your cats, dogs and any other furry friends who hang out in the living room can spread microscopic material called pet dander around your home. Not to mention that nice plush rug can trap dust, pollen, bacteria and more.
Dust ceiling fans. Wet clean the blades with a microfiber cloth—it'll help dust clump together and make it easier to remove.
Deep clean your couch. Vacuum the cushions and consider buying or renting a vapor steam cleaner, which gets rid of allergens minus the harsh chemicals found in many commercial machines.
Vacuum floors and rugs. Make sure you move furniture to expose hard-to-reach (and extra-dusty) spots.
Wipe dusty baseboards with a damp microfiber cloth.
Launder or vacuum window treatments. Wash the inside of windows using vinegar treatment.
Clean air conditioner filter with a microfiber cloth and dish soap.
Dust electronics with microfiber cloth.
Pro-tip: Regular mops and brooms may just push dust—including pet dander—around. Instead, use a microfiber cloth on baseboards or molding to trap allergens. Vacuum carpets, wood floors, vinyl and tile with the, which captures more microscopic dust than its competitors, and also includes a wand and hose to reach both up high and down low.
Bathroom
Bathroom moisture can result in mold and mildew spores floating around your home. For allergy sufferers, it's important to wipe down bathroom walls and floors with a microfiber cloth after you shower, run the exhaust fan, and leave doors open after you've left the room so it can air out.
Wipe baseboards and ceilings around shower with a microfiber cloth.
Launder throw rugs.
Deep clean your shower or tub. Steer clear of ammonia and bleach-based products. Use grout brush along faucet and drain.
Mop floor with gentle cleaning solution and microfiber pad.
Use vacuum attachment or microfiber cloth to clean exhaust fan cover.
Vacuum behind toilet and under sink to get rid of any hair or dust.
Pro-tip: Try the cord-free to clean your bathroom; its soft roller cleaner head was designed specifically for hard floors. Not to mention, it transforms into a handheld vacuum that'll help you get those difficult to reach spots.
Bedroom
Particles like dust mites, dander and pollen can hide in your bed linens and pillows. Their minuscule size means they can easily become airborne and inhaled during the night—triggering your asthma and allergies.
Vacuum floors or consider vapor steam-cleaning wall-to-wall carpeting.
Wipe baseboards, molding and ceilings with a microfiber cloth, and dust all surfaces.
Use vacuum attachment on any curtains or drapes—or launder if they're washer safe.
Air out the room by opening all windows and doors while cleaning. Close once you're done to prevent pollen from entering.
Launder all bedding, including pillows, mattress pads, dust ruffles and shams.
Vacuum mattress surface with upholstery attachment. Pay attention to seams and crevices where dead skin, dust and dirt can collect.
Clean dust and pollen from windowsills with microfiber cloth.
Clean or change out filters on air purifiers or humidifiers.
Pro-tip: Cold, dry air mixed with regular home allergens can irritate your airways. Try sleeping with the Dyson AM10 Humidifier & Fan, which projects clean, hydrated air for up to 18 hours—so you don't have to worry about constantly refilling it.
Now, take a deep (clean) breath, relax, and enjoy your newly spotless home!