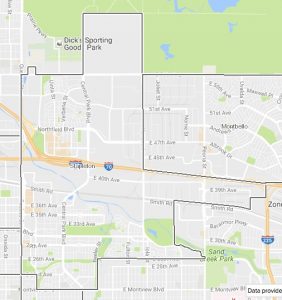 Stapleton is generally bounded by Quebec, Montview/26th, I-70, Havana and 56th.
"I feel like there's a real sense of community here in a way that I did not think there would be. I thought it would be fake or something, but I joined this moms club and I met like a hundred other moms–a hundred!! And I hang out with them and I think that's so cool. It's just our neighborhood group."
-Rebekah Henderson, Stapleton neighbor
When Denver voters approved plans to create a new airport, they also created an incredible opportunity for innovative urban development within the city limits. Once Stapleton International Airport closed, the land was sold to Forest City, which has orchestrated the development of the numerous smaller neighborhoods that make up the larger area that is known as Stapleton. The vision includes a variety of home designs and price points including affordable housing options, acres of open space (1/3 of the development is green space), miles of walking trails, public art, shopping districts featuring local businesses and event programming that brings residents together to enjoy live music, farmers markets and more. As residents will tell you, yes, they know the area looks very new and perhaps a bit like The Truman Show, but there is real community to be found there and it's pretty great to be a "Stapletonian."
A Brief History of the Stapleton Neighborhood
It should come as no surprise that the Stapleton neighborhood is one of the newest additions to the Denver landscape. New homes, lawns, and tricycles dot the neighborhood now, but what was there before? Empty fields, one might guess?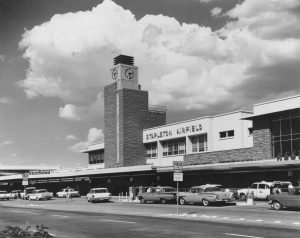 Stapleton Airfield circa 1961. Image courtesy Stephen H. Hart Library & Research Center, History Colorado
Well, yes, to a degree. Anyone who traveled into Denver as late as 1995 was likely to have seen the neighborhood in the form of landing strips and hangars. Yes, that's right: Stapleton was originally an airport, smack dab in the middle of a city! Well, eventually the airport was located in the middle of the city. Beginning as the "Denver Municipal Airport" in 1929, it was built out on the plains seven miles from downtown, and featured a couple runways and just one hangar. The airport was originally marketed more for recreation and mail delivery than for mass transportation, and served just three airlines: the Mid-Continent Express, the Western Air Express, and U.S. Airways. The little airport continued to grow over the following decades, seeing forty to fifty commercial flights a day by 1945, and receiving its first noise complaints from the neighborhood right around that time as well.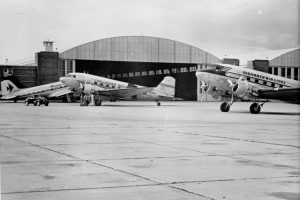 Planes belonging to Monarch Airlines near a hangar at Stapleton circa 1940. Image courtesy Stephen H. Hart Library & Research Center, History Colorado
As commercial air flight began to take hold towards the end of World War II, in 1944 the airport was renamed "Stapleton Airport." Newcomers to Denver may wonder "who was this Stapleton, and how did he manage to get an airport named after him?" Benjamin F. Stapleton served as Mayor of Denver for two long stints, from 1923-1931, and again from 1935-1947. He was instrumental in developing many of the civic improvement projects Denver saw over that long time period, in particular making use of Federal New Deal "make-work" funds available during the Great Depression. Civic Center Park, Red Rocks Amphitheatre, and yes, you guessed it, the Denver Municipal Airport were all projects which he facilitated. The airport, a project launched by the city under pressure from Mayor Stapleton, was essentially named as a hat tip to the same politician who helped it initially get off of the ground.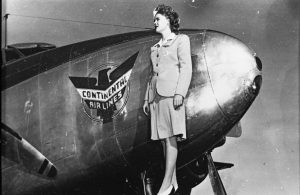 A stewardess circa 1945. Image courtesy Stephen H. Hart Library & Research Center, History Colorado.
Despite Benjamin Stapleton's roster of municipal improvements, his legacy is a complicated one. During the high-point of the Ku Klux Klan's influence in Colorado in the 1930s, many white men of influence, from businessmen to bureaucrats, were members of the Klan. Stapleton, too, joined the group and ran as the Klan-supported candidate for mayor. It is difficult today to determine whether he believed in the Klan's mission, or rather saw membership as politically expedient for election. Whatever his beliefs, his Klan membership is seen by modern eyes as actively racist at worst, and a cynical political choice at best. The neighborhood today, named after the airport that was named after the man, continues to struggle with what it means to memorialize the uglier parts of our history.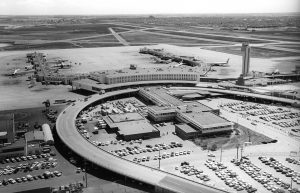 Stapleton Airport circa 1950. Image courtesy Stephen H. Hart Library & Research Center, History Colorado
Returning to the airport, much as the development of the railroad was crucial to Denver's growth in the 1870s and 1880s, having a large, eventually international airport was an important step for the town. Air travel began to overtake travel by train in the late 1950s and early 1960s, as flight was the most efficient means of bringing in visitors and business. It may be a surprise to anyone who has suffered the indignities of airports and air travel in recent years, but travel by plane was once a luxurious activity for the sophisticated "jet set" (hence that phrase). For cities in the 1950s and 1960s, having an airport put you on the map, and meant you could attract a certain caliber of tourist.
Colorado had already been popular for its national parks prior to the 1950s, but the years after World War II saw men from the 10th Mountain Division (the "troops on skis") returning to the state to build ski resorts. In short, our fancy new airport brought in a lot of ski tourists, who spent money, and lots of it, while they were here. Due to this ski resort boom towns like Aspen, formerly a small mining community, turned into the playground for the rich and famous that it is today. Our ski industry could not have exploded as it did in the 1960s and 1970s, without Stapleton Airport to facilitate travel.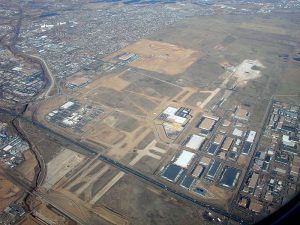 An aerial view of the former Stapleton Airport site taken on February 6, 2006. Image: Doc Searls
As Denver's population, business opportunities, and tourism grew, so too did the airport. Stapleton continually ate up more neighboring land for runways, and built a series of control towers, each taller than the next, every decade or so. In the 1970s, the airport became a major "hub" city serving smaller regional "spokes" for both United and Continental, due to Denver's unique placement as the largest city in the middle of the Rocky Mountain West. In 1978, the airport saw 18.9 million passengers pass through its doors.
By the 1980s, Stapleton Airport, now largely surrounded by residential neighborhoods and thus unable to expand, began to struggle to keep up with the ever-increasing level in commercial air traffic. Neighborhood complaints about noise pollution also exploded, particularly from the Park Hill residents, living right along a major daily flight path. Pressed to continue developing the economy-supporting potential of the airport, and to address citizens' complaints, Denver Mayor Federico Peña worked to find Federal funding to build a new airport, far from the ears of fed-up Denverites. As an aside, if any newcomers to Colorado were wondering the source for Denver International Airport's "Peña Boulevard," there you go.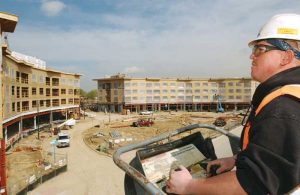 Quebec Square opened in the summer of 2002 and the Town Center opened a year later. The first home was occupied in July, 2002 and the first school opened in the fall of 2003. Image: Front Porch Stapleton
Subsequent Mayor Wellington Webb continued the new airport project, bringing the Denver International Airport to fruition out in the unpopulated plains in 1995. Stapleton International Airport was thus superseded after 67 years, and left its prior home within city limits open for a new interpretation for the land.
It was only a matter of time before a developer, excited by the unique opportunity to start an entire community afresh so close to a major city's center, moved in. In 2001, Forest City Enterprises did just this, breaking ground on a new type of community: suburban but near downtown, offering a high level of walkability and the yards Denverites so cherish, in addition to a wide variety of home styles and price ranges. As one of Denver's newest, and in fact still growing communities, Stapleton's history mostly still lies ahead.
Wrap Stapleton Around Your Neck and Take It Everywhere
"In the early 2000s, the land of the former Stapleton International Airport was transformed into a community and neighborhood. This design is meant to portray the transformation of the identity of Stapleton. By including the iconic old Stapleton Control Tower and contrasting it with the new vibrant homes it illustrates the growth of the neighborhood into a contemporary and bold community. One of the many things that makes Stapleton so interesting is the diversity of new residential and commercial buildings and the preservation of the control tower." – Christiana Lambert, designer at Knotty Tie